Sometimes, even in cold weather, you may find yourself wanting nothing more than a giant salad for dinner. I know I do. A few nights ago, I suggested this idea to my wife and got a resounding "Oh, YES!" Fortunately, we live in a world where we can be in the dead of an unusually cold winter, and yet, because it's summer somewhere else, we can enjoy gorgeous fair-weather produce year-round. Always that silver lining.
I went through the refrigerator and pulled out the likeliest protagonists for a one-dish dinner salad: a little plastic tub of very fresh "Asian greens," a few big radishes, a red pepper, scallions, celery, carrots, and an 8-ounce package of tempeh. This collection of ingredients would probably lead different people to create wildly different salads, depending on their tastes. For me, it leaned heavily in an Asian direction, a trajectory clearly initiated by the words "Asian greens," and set in place by the tempeh. I do like blending cultures a little (as long as the combinations work well), but for the most part I try to keep things close to where they belong. This salad was definitely headed for Southeast Asia.
It wasn't until I was well into mixing up the dressing that I realized I was making a variation of one of my recipes in Extraordinary Vegan, "Edamame Salad with Penang Curry." The dressing was pretty much identical. It consisted of lime juice, white miso, tahini, Penang curry paste (I use Maesri brand*, which contains no ground shrimp), grated ginger root, garlic and Udo's Oil 3-6-9 Blend. Of course, I didn't stop to measure anything because I've been doing this cooking thing a long time and I know what I want in terms of flavor. Once I saw where my salad was headed, I added a diced avocado and a couple handfuls of roasted peanuts.  I had no cilantro on hand, but I knew it wouldn't be missed amid the explosion of exotic flavors. And my wife almost never complains about anything I make, which is nice.
Once the vegetables (minus the avocado) and peanuts were well combined in a large bowl, and the dressing was whisked together in another, I cut the tempeh into 1/4-inch slices and fried them in coconut oil until they were lightly browned. The next part had to be executed quickly, to preserve the salad's hot-cold-crunchy-creamy effect. I tossed the dressing into the vegetables, first without the avocado (to keep it from getting mashed). Then I added the avocado and half the hot tempeh, broken into roughly 1 1/4-inch pieces, and tossed quickly. I divided the salad between two dinner plates, forming rough cone-shaped piles, dotted them with the remaining tempeh pieces, and served them immediately. Or, rather, I served my wife's immediately. Mine I took into my office to photograph first. The tempeh was still warm when I finally sat down to enjoy my meal.
If you'd like to reproduce this salad, you'll need to buy/do (in order):
Put the following in a medium bowl:
1/3 cup Udo's Oil 3-6-9 Blend , or your preferred flax oil (But do try this one; it really is that good. Seriously.)
1/4 cup freshly squeezed lime juice
3 tablespoons mellow white miso
2 tablespoons raw tahini (or lightly roasted)
2 tablespoons Penang curry paste (red curry paste will work almost as well)
1 tablespoon freshly grated ginger
1 or more cloves garlic, pressed
Whisk until smooth. (Start slowly, until the lumps of miso, tahini and curry paste are incorporated, or it'll splash the red liquid all over your shirt.)
Get a big bowl and put the following in it:
the 5-ounce tub of Asian greens (minus the tub)
3 or 4 large red radishes, sliced 1/4-inch thick and then cut crosswise into sticks (white with red tips)
1 red pepper, cut into strips
a few scallions, cut on a sharp diagonal
2 or 3 stalks celery, cut in half lengthwise and then sliced on a sharp diagonal
2 medium carrots, grated the long way
1 or 2 handfuls roasted peanuts (this is optional–you've got the tempeh–but these add a layer of flavor)
Toss gently but thoroughly.
Cut 1  8-ounce package plain tempeh into 1/4-inch thick slices.
Fry the slices on both sides in 2 to 3 tablespoons coconut oil, until lightly  browned. Drain on towels.
Work quickly! Break the tempeh into pieces about 1 1/4 inches long. Add about half of them to the salad right away, along with:
1 or 2 ripe but firm avocados, cut into 1-inch dice. (Remember to add them last!)
Toss with two silicone spatulas, quickly but gently, so you don't mash the avocados.
Divide between two large dinner plates, mounding carefully. Dot with the remaining tempeh pieces and serve at once.
If you get this right, the salad will be crunchy, the dressing will be spicy, the avocado will be creamy and the tempeh will be warm and crispy. Eat smart. Live joyfully.
Here's what you should get: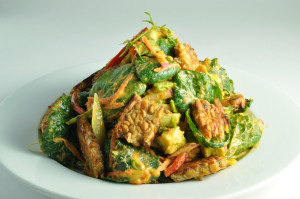 Click the image to view a much sharper picture.
Any questions?
*I linked to the Maesri Penang curry on amazon, but if you have an Asian market near you, they probably have it for a fraction of the cost (less than $2.00 for that same 4-ounce can). If they don't, and you're very nice to them, they'll probably order it for you. I did this, and when the case arrived, I bought all of them. That encouraged the storekeepers to order more. Priming the pump, so to speak, for assured future supply.