During my time as pastry chef at a billionaires' country club in California back in the mid-nineties, I had access to an ice cream machine that would punch out gallon after gallon of ice cream and sorbet. This allowed me to create several new and unusual offerings each day—"Baked Apple Ice Cream" in The Almond Milk Cookbook began there. I offered ice creams a la carte for patrons who didn't want a full-blown dessert, but every now and then I would also offer a plated ice cream dessert, presented with a few other, non-ice cream elements. These were generally showstoppers that upstaged even the chocolate soufflés for just one night, never to return. It was my way of keeping the boredom of routine at bay.
I created this dessert last year, when my local Natural Grocers store brought in some gorgeous organic Abate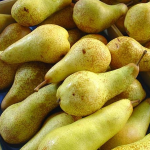 Fetel pears. If you haven't had these, they are well worth the effort to find. They are a fall fruit, so look for them from September to late October (or, since fall comes to Argentina in May, you could come across imports in the spring as well). Their flesh is somewhere between a bosc and a ripe bartlett, simultaneously dry and succulent, with a delicious complex flavor and an almost custardy background note. The shape varies a bit, with some looking like a fat bartlett with a long, narrow neck, but most have only slightly tapered necks, unusually thick all the way up to the stem. They were named after a French abbot (Abbé Fetel), who is credited with developing this spectacular cultivar in 1866, but they are most popular in Italy.
The sorbet is very simple to make—it's really just a matter of poaching the pears, pureeing them with some of the poaching liquid, and then freezing in an ice cream machine—and even the other components are fairly quick and easy to prepare. I'll let the recipe take it from here…
Abate Fetel Pear Sorbet with Chocolate Sauce and Pear Chips
Makes 6 servings

8 Abate Fetel pears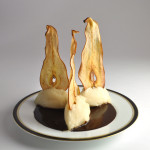 3 cups water
1 cup organic evaporated cane juice sugar
1 vanilla bean, preferably Tahitian
1 tablespoon freshly squeezed Meyer lemon juice
pinch of unrefined sea salt
1/2 teaspoon coconut oil
1 1/2 ounces dark chocolate, chopped
1/4 cup Dutch process cocoa
2 or 3 green cardamom pods
Set aside 3 of the best-looking pears with the thickest necks. Quarter the remaining 5 lengthwise and cut out the cores, including the tough strip leading up to the stem end.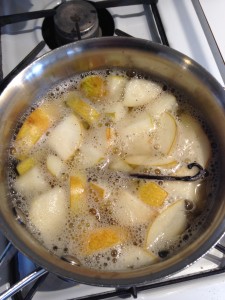 Cut them into 1 to 1 1/2-inch chunks and put them in a medium saucepan. Add the water and cane sugar. Split the vanilla bean in half lengthwise and scrape the seeds into the saucepan. Add the two halves of the bean and bring the mixture to a boil over medium-high heat. Adjust the heat to maintain a rambunctious simmer, and cook until the pears are very tender, about 20 minutes.
Remove the vanilla bean. Drain the pears in a sieve set over a bowl to collect the syrup. Put the pears in a blender and add 1 1/4 cups of the syrup. Process until smooth. Pour the puree into a medium bowl and stir in the lemon juice and salt. Cover and refrigerate until cold, about 3 hours.
While the puree is cooling, prepare the pear chips. Preheat the oven to 300 degrees F.  Very lightly grease a sheet of parchment paper with the coconut oil and set it on a baking sheet.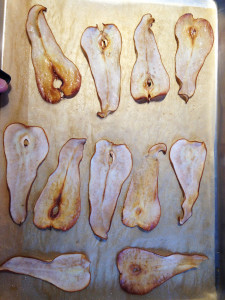 Cut the remaining 3 pears in half lengthwise. Using a mandoline,* slice the cut sides of the pears into thin cross-sections, no more than 2 mm (3/32 inch) thick. You will need at least 18 good-looking slices for 6 servings, but it's wise to make a few extras, if you can. Feel free to eat the parts that don't make handsome slices. Lay the slices out on the prepared parchment and brush them very lightly with a little of the remaining syrup. Bake until they have turned a rich golden color and are curling slightly at the edges, about 10 to 12 minutes. Decrease the heat to the lowest setting and bake until very dry, another 20 to 30 minutes. Transfer the chips to a dry baking sheet and allow them to cool completely. If they are not crisp at this point, you may return them to the oven at the lowest setting and dry them further. Let them cool again to see if they have dried sufficiently (they will be slightly soft when warm).
To make the chocolate sauce, put 3/4 cup of the remaining syrup in a small saucepan and add the chocolate and cocoa. Set the saucepan over medium-low heat and stir gently with a whisk until the chocolate has melted and the mixture is smooth. Remove from the heat. Crack open the cardamom pods and remove the seeds. Crush the seeds in a mortar, leaving some coarse pieces, and stir into the sauce. If you don't have a mortar, you can crush the seeds on a cutting board with the back of a wooden spoon. Let the sauce cool completely. Do not refrigerate, or it will become too thick.
When the pear puree is cold, pour into an ice cream machine and freeze according to the manufacturer's directions. Transfer to a container and set in the freezer to firm up for about 30 minutes. You may prepare the sorbet in advance up to this point, but bear in mind that you will need to remove it from the freezer about 15 minutes before serving, in order to shape it into quenelles (oval shapes).
At least 15 minutes before serving, put the dessert plates in the freezer. Using two large spoons, scoop out about 1/3 cup of the sorbet and form oval shapes by pushing it back and forth between them. If you haven't done this before, there will be a bit of a learning curve, but you'll manage. Working as quickly as you can, set 3 quenelles on each plate, with tips touching in the center and radiating out. Pour a little of the sauce between the quenelles and let it spread. Stick a pear chip into each quenelle, with the stem end pointing straight up. Serve at once! Invite your guests to use their hands to pick up the pear chips and use them along with their spoons to eat the dessert.
The chocolate sauce will have a unique pear-scented flavor, punctuated by the occasional zap of cardamom, as you bite down on a bit of seed. That, and the almost caramel-flavored pear chips are delectable bookends for this unparalleled pear sorbet. You and all your guests will fall in love with this dessert, believe me.
Note: You can make this sorbet with any kind of pear—bartlett and d'Anjou are excellent choices—but the chips will not be as long, or as wide at the tips as the Abate Fetel. The loss in elegance will be fairly acute, but I doubt any of your guests will complain.
*Sorry, I didn't mention this at the beginning, but you will need a mandoline (or, at a fraction of the cost, a Benriner slicer) to do this evenly. I don't generally recommend going out and buying kitchen gadgets (all too often many they wind up being useless clutter), but this is one item you will find very useful.