With food, I'm almost always looking to go where I haven't gone before, and invent something new. It could be as simple as a new ingredient—either new to me, or new to a dish I've made before. I discovered not too long ago that some winter squashes—kabocha squash in particular—can be cooked (and, more importantly, enjoyed) with the skin on. I had been to a potluck several years ago where a Japanese lady had brought a salad featuring lightly steamed kabocha (with skin), which sounded intriguing. The salad was quite tasty, and the kabocha definitely belonged there, but the skin was off-puttingly woody. That pretty much ruined it for me. I figured she was one of those health-at-the-expense-of-pleasure people who believe "the skin is the most nutritious part" and was trying to do everyone a favor. Give me a break.
Several years later, I read that the Japanese routinely leave the skin on when they cook kabocha squash (presumably ensuring it cooks properly). At a Japanese restaurant in Vancouver, I had kabocha tempura that was mind-blowingly delicious. So, in the interest of going where I haven't gone before, I decided to begin cooking unpeeled kabocha myself. I generally do this in a pressure cooker, which shortens the time it takes to make the skin palatable, and since I no longer need to peel the squash, it shortens my prep time as well.
A few nights ago, I made one of those "whatever odds and ends remain in the larder" soups for dinner. I had a small kabocha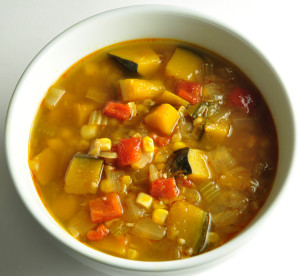 and a few ears of very fresh organic corn, along with the usual staples, onion, celery, roasted red peppers and garlic. If I had had any black beans soaked and ready to cook, I would have gone for a highly regarded favorite of mine, "Three Sisters Soup," but I had not even a can of any bean variety. Oh well. What I ended up with was almost the same in terms of ingredients, but strikingly different in overall effect. The aroma brought me to the verge of adding a pinch of saffron, but I held back. Sometimes a little less depth works best, and by that one slight omission, I gave myself somewhere to go next time. When that time comes, I will definitely add the saffron, and find out where it would have taken my soup.
White Corn and Kabocha Squash Soup
Makes 6 servings
3 tablespoons extra virgin olive oil
1 1/2 large onions, diced
3 stalks celery, diced
2 roasted red peppers, diced
7 cloves garlic, minced
1 small kabocha squash, cut into 3/4 to 1-inch pieces
1 tablespoon smoked hot paprika
1 teaspoon ground chile amarillo*
1 teaspoon Aleppo pepper **
1 teaspoon unrefined sea salt
8 cups vegetable broth
2 bay leaves
4 ears white corn
Freshly squeezed lime juice
Put the oil in a large soup pot over medium-high heat. At the very moment when you can smell the aroma of olives, add the onion and stir well. Cook, stirring often, until the onion softens and just begins to brown at the edges, about 5 minutes. add the celery, peppers and garlic, and stir well. Decrease the heat to medium, and cook, stirring frequently, until the vegetables have softened, about 10 minutes. Increase the heat to medium-high and add the kabocha, stirring to combine thoroughly. Add the smoked paprika, chile amarillo, Aleppo pepper and salt, and stir until the vegetables are evenly coated with the spices. Continue cooking and stirring until the vegetables are nearly dry. Add the broth and bring to a boil.
Cut the kernels off the corn, directly into the pot. Using the back of the knife, scrape the remaining starch off the cobs into the pot. Add the bay leaves and stir well. Return to a boil, if necessary. Adjust the heat to maintain a low simmer, cover the pot, and cook until the vegetables are tender (especially the kabocha skin), about 45 minutes. The liquid will have reduced somewhat, and thickened slightly from the corn starch. Adjust the seasoning, if needed.
Ladle the soup into bowls and add about 1 tablespoon of the lime juice to each serving. Eat it while it's hot!
Note 1: If you live at a high elevation, as I do, I recommend using a pressure cooker. I have an InstantPot, which is programmable and will switch to warming mode once the time is up.
Note 2: If you'd like to try using the saffron, add a pinch along with the bay leaves.
*I like to support local business, so if you need to order aji amarillo or Aleppo pepper (or any other spices), please consider taking the extra step and contact my friend, Dick Frieg at the Colorado Springs Savory Spice Shop, to ensure that credit for the sale goes to his shop. You may email him (coloradosprings@savoryspiceshop.com) or call him at (719) 633-8803 to set this up. Once you've placed an initial order through his shop, all future orders will go through his shop automatically.
** Both aji amarillo and Aleppo pepper are spicy, although not as intensely spicy as cayenne. If you are at all averse to very spicy food, you may wish to use 1/2 teaspoon of these until you taste it, and then add more if you like. Cook at least 5 minutes longer after adding, to make sure it melds properly with the soup.