Avocados are finally enjoying their well-deserved respect as a source of monounsaturated fats (the "good" kind that help lower cholesterol) as well as B vitamins, vitamins C and E, potassium, lutein (good for the eyes), folate, and of course various phytonutrients and antioxidants that come standard with all plant-based foods. I mention these nutrients because I've known so many people who shy away from eating avocados for fear of the fat (and caloric) content. Many of my lady clients would avoid avocados as if they carried a dread disease, yet at dessert time would gleefully gorge themselves on chocolate mousse. To be fair, I always used high-quality chocolate, which also brings valuable nutrients to the table, but these were offset by the sugar, egg yolks, butter and cream present in most of my chocolate desserts. Suffice it to say that avocados are unequivocally better for health (and girth) than dairy products.
A friend of mine who lives in California recently sent me a box containing some of the largest, most perfect avocados I've ever encountered, which she picked from her own trees. They seemed very green but within a couple of days they had all begun to ripen. Naturally, the first applications I chose were salads and guacamole, followed by a couple of Mexican soups and my "Three Sisters Soup" from Extraordinary Vegan, which all but cry out for chunks or slices of avocado. But they were all ripening at once, and I couldn't use them fast enough. It was then that I recalled seeing a recipe somewhere for avocado ice cream by Rick Bayless that I had wanted to try. I quickly found it on the internet.
The recipe was very simple, calling for just avocado, sugar, lime juice and tequila–perfect for me, because it had no eggs or cream to work around and omit. I made a quick version with less sugar (I used organic evaporated cane juice instead of refined "white death"), but it just tasted like tequila to me. That wasn't such a bad thing—even though I quit drinking alcohol well over a year ago—but it didn't seem quite right. It lacked depth and character (sorry, Rick, no disrespect intended here). So I messed with the mixture until it began to sing for me. Here's my final version:
Avocado Ice Cream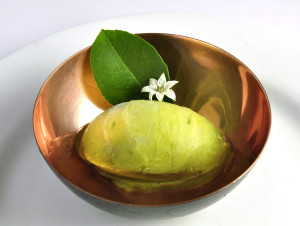 Makes 1 quart
1 1/2 cups organic cane sugar
3/4 cup water
2 cups mashed avocado*
1/3 cup freshly squeezed lime juice
1/3 cup tequila (I used Cuervo gold)
1 tablespoon Grand Marnier
zest of 2 limes
Put the sugar and water in a small saucepan and bring the mixture to a simmer over medium heat. Swirl the pan until the sugar dissolves and the mixture is clear. Let it cool before proceeding.
Pour the sugar syrup into a blender and add the avocado, lime juice and Grand Marnier. Process until smooth. Scrape the mixture into a bowl and stir in the lime zest. Cover and refrigerate until cold, about 2 hours.
Stir the mixture, which will have become fairly thick, and pour into an ice cream machine. Freeze according to the manufacturer's instructions, and then scrape into a container and serve at once (which would be ideal, trust me), or freeze until firm.
Be sure to remove from the freezer about 15 minutes before serving, to allow the ice cream to soften a bit. If you don't, it will have a slightly off-putting slimy texture. The flavor also opens up more when the ice cream has softened, so do yourself (and any guests) a favor and follow this step.
*To preserve the fresh taste and green color of the avocados, mash them and measure just before blending.
That's it. Really simple and easy. Now you have one more dessert to offer after a Mexican meal—and one more way to serve and enjoy avocados. But if the meal isn't Mexican, and you want yet another way to serve this, here's a delicious variation: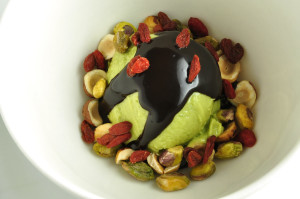 Put a scoop of the avocado ice cream in a bowl and drizzle a couple of tablespoons of Hot Fudge Sauce (from "The Almond Milk Cookbook") over it. Then add some roasted hazelnuts (cut in half), pistachios and goji berries. The combination is unusual and quite delicious.
I think I can hear you thinking, "Wait, what? I gotta go buy your book just so I can make the hot fudge sauce?" No, I wouldn't leave you hanging that way. Here—it's also very easy:
Put 1 cup unsweetened almond milk, 1 cup organic cane sugar, 3/4 cup Dutch-processed cocoa and 1 teaspoon instant espresso coffee in a small saucepan and stir over medium heat until melted and smooth. Remove from the heat and whisk in 1/4 cup coconut oil. Let it cool until just warm and use on this or any other dessert you wish. You're welcome.