The facts are in.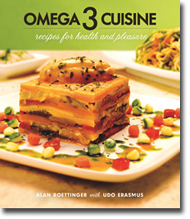 Over 30 years of published research has established that Omega-3 fats are indispensable to human health. They are responsible for the structure and proper function of every single cell in the human body.
Omega 3 Fats:
• Protect us from degenerative diseases and promote vitality
• Help lower bad cholesterol and burn body fat
• Improve brain function
• Make skin soft, hair shiny and eyes sharp
• Hasten healing and reduce inflammation
• Help us recover more quickly from fatigue
• Boost stamina and improve athletic performance.
The list goes on.
We literally cannot live without them.
In Omega-3 Cuisine, the benefits of essential fats and the pleasures of delicious eating are brought together by Udo Erasmus, health expert, and Alan Roettinger, flavor expert. It's no secret that fat makes food taste good; it's common knowledge. Sadly, we've been fed the myth that fat is bad for us and that we must avoid it in order to prevent disease. The truth is that while refined, heavily processed oils and trans-fats are harmful, essential fats are, well, essential. Here's the good news: by choosing the right fats, we can literally feast our way to optimum health.
Udo Erasmus, author of the bestseller Fats that Heal Fats that Kill, is an international authority on fats and health. He developed formulas for oil blends that provide all the good fats and no harmful ones. Derived from organically grown plant sources, Udo's Oil™ 3•6•9 Blends are made in a way that protects fragile omega-3 fats from heat, light, and oxygen. Setting six standards for production and quality, his oil blends are by far the best source of healthy essential fats. Udo's Oil™ can be found in the refrigerated section of natural food stores.
For more information, visit: www.udoerasmus.com
Alan Roettinger, private chef to the stars for 25 years, was introduced to Udo's Oil by his doctor, who recommended it for cardiovascular benefits. Obediently, Alan took the prescribed daily dose of two tablespoons–for about 3 days (who chugs oil from a spoon?). Eventually, he threw out the bottle and forgot all about it.
Several years later, Alan was introduced to Udo by a mutual friend, and the subject of a cookbook using Udo's Oil came up. Alan accepted the challenge of creating recipes that adhere to Udo's specifications–like never heating the oil–and combine the benefits of essential fats with the pleasure of eating. After a few months of developing (and eating) different dishes, Alan realized that several health problems, including joint pain, dry skin and chronic fatigue, had simply vanished. Not only that, his "bad" cholesterol plummeted and has been on a steady decline ever since. You can't get a better testimonial than a cook who got healthy without even trying!
This is Omega-3 Cuisine–a way for people to actually improve their health by enjoying delicious food. It's a no-brainer. Finally, you can fearlessly indulge yourself. This is what Udo calls the Right Fat Diet, and you're going to love being on it!
(retail $19.95) 
Special price $18.95