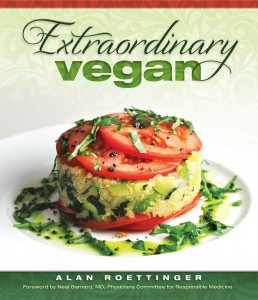 As a private chef to the rich and famous for more than 30 years, Alan Roettinger has learned a lot about what people hunger for, and what satisfies. It's more than just food to fill our bellies. We crave fulfillment on every level, and his approach to food and cooking aims to deliver it in as many ways as possible. In Extraordinary Vegan, Alan opens the door to a new paradigm of eating. He'll show you how easy it is to make food designed to support health, thrill the senses, surprise the imagination, entertain the intellect—even nourish the heart.
> Learn how—and why—to lavish attention on the food you prepare, to the delight of everyone who eats it.
> Discover extraordinary ingredients that enhance everyday dishes with layers of unexpected flavors.
> Experience a sense of satisfaction and pride from creating extraordinary food.
This is food to cross barriers, food for food lovers—vegans, omnivores—all are welcome!